Hey friends, first of all, Happy New Year! Everyone here at TNC feels like 2020 is going to be a big year for us and we could not be more excited to share another year with all of you. We are going to start the New Year off right and continue our Watchlist series for the games we are excited about for this year. The next game on the list is a game based on one of my favorite anime series, Fairytail.
Fairytail is a long-running manga/anime franchise that is centered around a guild of wizards and their adventures as they work to be the best guild in the kingdom of Fiore. The game is based directly on three main story arcs of the show but also ties in some brand new story content unique to the game. The story arcs that are included in the game are some of the most exciting in the show and include the Tenrou, Tartarus, and the Grand Magic Games arc, which was a personal favorite of mine.
When I first found out that a Fairytail game was being made, the first thought that came to mind was, "oh cheese its I hope this game is gonna be just another anime fighting game." I was thankfully reassured when the first trailer was released explaining that the game was going to be an RPG of sorts.
In the game, you will control a party of up to five wizards as you battle your way through various jobs to help Fairytail go from one of the lowest-ranked guilds all the way back to the top. There will be several different wizards for you to choose from including members that you will be able to recruit from other guilds. As you progress through the game your characters will level up to gain new attacks as well as rank within the Fairytail guild.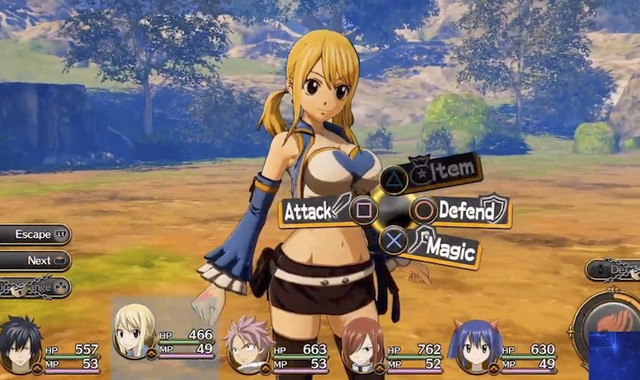 The combat in Fairytail is going to be a fun mix of Final Fantasy and Persona. It is turn-based combat with enemies placed on a 3×3 grid. You will choose different spells that the wizards will have at their disposal, and each spell will attack in a different pattern on the 3×3 grid. There will also be elements of gathering and crafting in the game that they have yet to give more details on.
Koei Tecmo seems like they are going to great lengths to make Fairytail more than just a service to fans of the anime but a game that fans of turn-based RPGs can thoroughly enjoy as well. If you like games like Final Fantasy, Persona, or Fire Emblem this is a game that should definitely be on your radar. Fairytail will be launching on PS4, Switch and Steam on March, 20 of this year. For those that pre-order the game there is a bonus outfit for Erza Scarlett that players will get to use.
What games are you guys looking forward to this year? Let us know in the comments below or let us know on Facebook, Twitter or Kyrie!